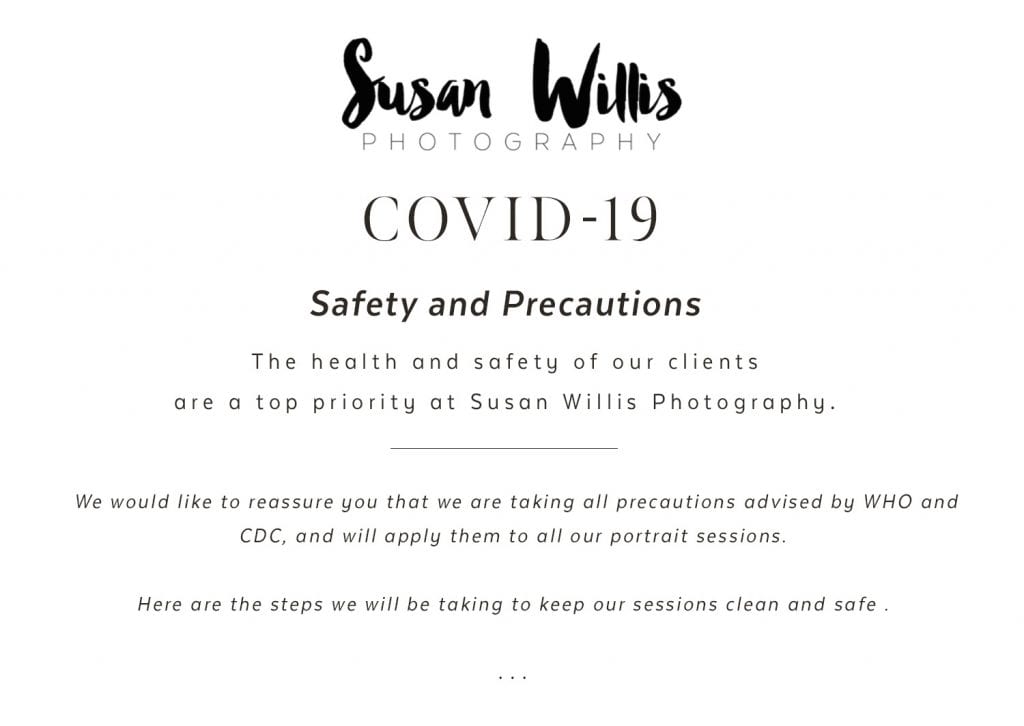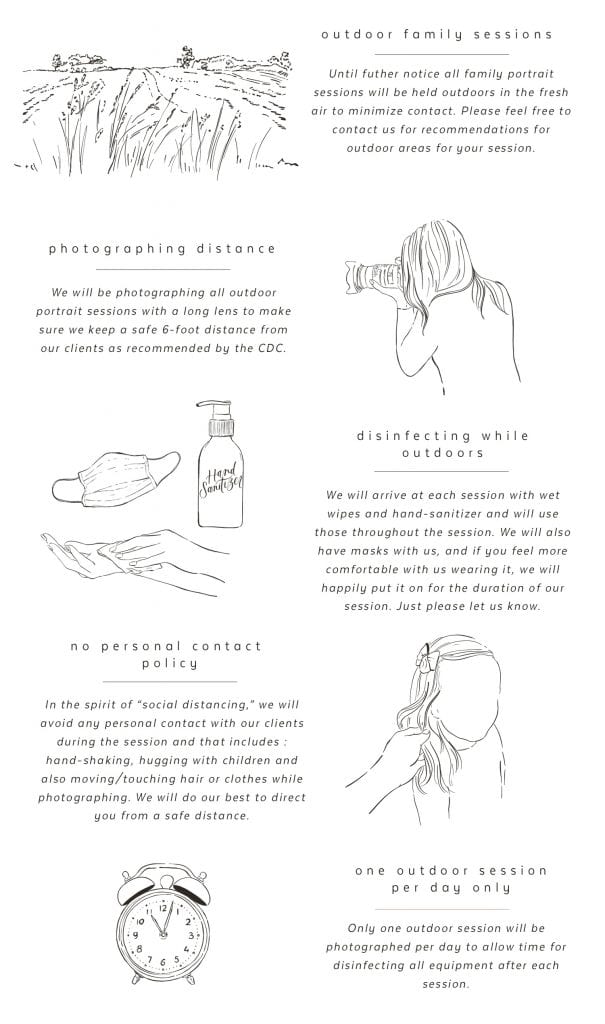 In my state of Illinois, at least, some businesses are starting to reopen. After verifying with the Illinois Department of Commerce, photographers are counted among those business permitted to reopen with specific restrictions.
The coronavirus shutdown has been incredibly challenging in so many ways, but especially for those businesses, large and small, that have been forced to cease operations. I'm grateful to be allowed to work again; however, the health and safety of my clients is my TOP priority as we all begin to emerge from our homes. I wanted to outline recommended COVID policies for photographers that I will be following in order to keep clients and myself safe.
Current recommendations by the CDC advise that we practice social distancing (six or more feet of distance between people), avoid gathering in groups and stay away from crowded places and mass gatherings. For my business, that really isn't much of a change from my normal operations. As a photographer, I have primarily worked outdoors in open spaces. Thankfully, parks are reopening, so there really is no shortage of my usual locations. I tend to use a longer lens and am most often much farther than 6 feet from my subject. One of the biggest challenges I am facing is the inability to personally tend to details like clothing and hair; I am recommending that clients bring one family member along with them to act as an assistant and help with these details (that I wish I could!).
My photography equipment has never been cleaner! Every piece of gear I travel with is sanitized before and after each session. I will also have disinfectant wipes and hand sanitizer with me during each session (in case we want to sit on a bench or lean on a wall or grab a hand railing). For the immediate future, I will not bring any of my own props or convenience items to sessions (hats, sunglasses, jewelry, blankets, hair ties, bobby pins, lint rollers, bottled waters, etc.) and ask that clients bring those items that they will need. I take a lot of pride in anticipating client needs and being well-prepared, but for now it's most critical to keep all of our things to ourselves. I will also wear a mask when photographing.
If a client or any member of his or her family has felt ill in the 24 hours leading up to the session, we will reschedule. Cough, runny nose, sore throat, fever . . . no questions asked. It is much better to be safe than sorry, and I promise to extend the same respect to my clients.
I am so excited to get back to work! High school seniors are finishing up their final year of school (albeit in a very different way than they ever imagined), the next class of seniors is emerging, folks still need headshots and marketing images for their businesses, children and families are growing and changing every day. Document this – I'm ready to help you.
** Each state and municipality has handled the closures differently, and it's important to note that what is legal in one place may be against the law in another. Please refer to YOUR particular municipality to determine whether or not you are allowed or advised to participate in a photography session. **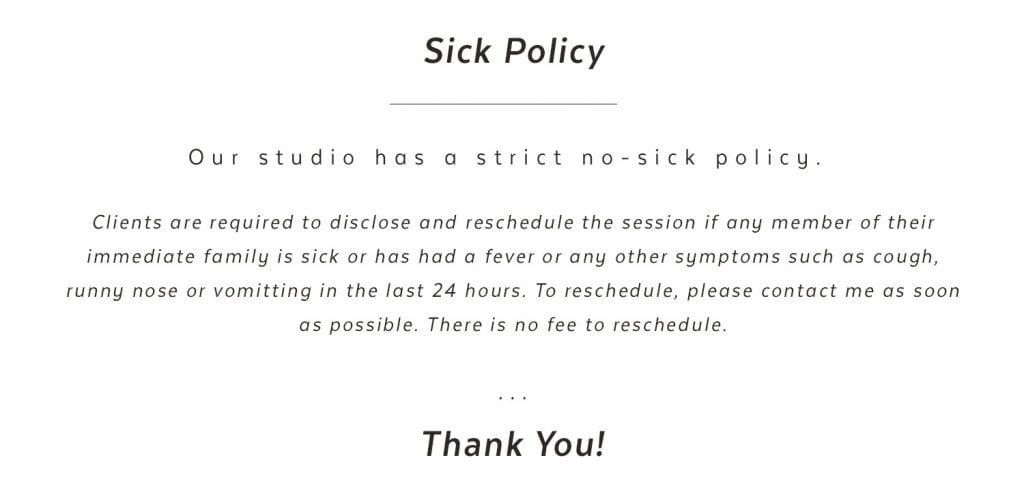 Susan Willis Photography is currently booking portraits sessions in and around southern Illinois. If you would like to book your own session or meet to talk about how you can have unique, bold and modern portraits, please call Susan at 314-282-5632, email her at susan@susanwillisphotography.com, or click on the "CONTACT SUSAN" link on the menu bar.
Southern Illinois Photographer, Susan Willis, is a Certified Professional Photographer specializing in high school senior and modern family portraiture photography. Based in Murphysboro, Susan Willis Photography travels throughout southern Illinois, St. Louis, MO, and surrounding areas to capture the uniqueness of YOU! Susan also does destination sessions in Charleston, SC; Nashville, TN; Chicago, IL; Tampa, FL; Tucson, AZ; New York City; and beyond.